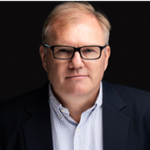 Global Director of Fish and Seafood Cargo
/
Thue Barfod
Following his graduation from The Danish Merchant Marine Academy as Master Marine and a few years at sea, Thue began his shore-based career in 2000 and has held various positions within the group in mainly Latin America and Asia. 
During his Time in South America he worked in the company's Chilean country organization and later on as member of the Regional Reefer Management team covering Latin America from São Paulo.
In September 2006 he was asked to start up the dedicated reefer desk in Asia covering the Greater China Area, Hong Kong, and Taiwan a position he held until the end of 2009.
In January 2010 Mr. Barfod relocated to Hong Kong, where he is heading Maersk Line's Reefer Business Development efforts in a region covering Asia Pacific, The Middle East and Indian Ocean..
In May 2015 Mr Barfod took up the position as Maersk Line's Global director of the Fish and Seafood Cargo segment a position he still holds today.